Music Tonight – Lucky Pennys
When:
16 September 2023 @ 20:00 – 23:00
2023-09-16T20:00:00-07:00
2023-09-16T23:00:00-07:00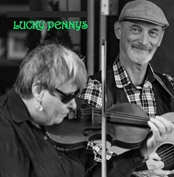 Lucky Pennys features Bob Collins on guitar and vocals and the wonderful Mary Brunner on fiddle. Bob and Mary love bringing an up tempo Celtic / traditional vibe to every venue and event where they perform. If you've enjoyed the Lucky Pennys or Chapter 11, you already know Bob's amazing and eclectic talent mixed with his engaging style. This is guaranteed to be an entertaining evening.
An entrance fee of $5.00 is being charged to all non members who visit the branch on our "Dinner Evenings", typically Saturdays after 7:00 pm to enjoy the post-dinner live entertainment.