Music Tonight – Lawless Firm
When:
11 March 2023 @ 20:00 – 23:00
2023-03-11T20:00:00-08:00
2023-03-11T23:00:00-08:00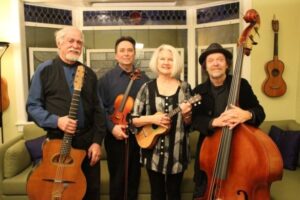 The Lawless Firm is a Gypsy jazz style musical group put together by veteran musician Michael Dunn. The quartet is made up of Michael Dunn (guitar and slide guitar), Eleanore Dunn ( vocals and ukulele), Joe Bourchier on bass and vocals and our newest member, Edgar Bridwell a fabulous jazz violinist. A lot of their repertoire comes from the American songbook of the 30's and 40's with a little Blues, some Gypsy Jazz, Country, a bit of Hawaiian.
They play a great variety of music including some virtuoso pieces featuring Edgar on the violin playing songs from Iran to Russia to the USA. Eleanore, our chanteuse, has what is best described as an "old fashioned voice" ideally suited to the songs from the Swing era. Joe holds down the bass parts and Michael, who has spent the last 5 decades as a professional luthier, plays music heavily influenced by the Gypsy jazz tradition.
The group is only marginally amplified, just enough to fill the room. No loud music from these guys. Songs are performed as they were before the invention of electric amplified loudness. It's a listener's delight.